[ad_1]

Thank you for subscribing!
Agency
Boulder SEO Marketing (BSM) is a Denver-based search engine optimization company that's been implementing digital marketing campaigns with local, national, and global objectives since 2009. BSM offers a tailored approach for every client, which helps them build effective strategies for businesses operating in different niches and markets. 
Using BSM's hyper-focused tactics and nifty tools from SE Ranking, the agency's ecommerce clients are able to surpass the likes of Walmart, Target, and Amazon on the SERPs. 
We asked Chris Raulf, the founder and president of Boulder SEO Marketing and a proud ambassador of SE Ranking, to share this case and describe in detail how SE Ranking helps him in his day-to-day work.
Client
Crew Supply specializes in innovative and easy-to-clean barware that's built to last. As opposed to unreliable tools that can't withstand a single shift, Crew Supply's barware is for people who value performance and quality.
Because Crew Supply is competing with major online marketplaces like Walmart and Amazon, they need to appear as high in search results as possible to gain new customers. 
Goals
Crew Supply wanted to: 
Outrank other barware retailers on the search engine results pages.
Appeal to mixologists and baristas who genuinely care about their craft. 
Boost organic search traffic. 
Increase visibility in search.
Steps taken to reach these goals 
After Crew Supply identified their goals, the strategic team at BSM got to work. They devised an action plan that would help Crew Supply get the top spot on the first page and outrank the biggest online retailers in the world. 
BSM conceived a multi-pronged approach for Crew Supply that included a few essential elements. First, they focused on getting the client's site to climb the rankings for strategic and relevant keyword phrases. Boosting the barware supplier's visibility would be foundational to achieving all subsequent goals. 
Here are the steps they took to get their strategy off the ground: 
1. Find the low-hanging fruit.
BSM specializes in Micro-SEO Strategies℠, helping clients to climb the rankings in record time. Instead of optimizing an entire site, which can take months, if not years, they focus on a single page—one that already has traction but could be doing better. 
BSM started with SE Ranking's Competitive Research to identify the best page for their purposes. These tools helped them determine target keywords based on search volume and position. SE Ranking's tools consider keywords with high search volume and high intent to be "low-hanging fruit," which means they're ripe for the plucking. After viewing a detailed report of organic keywords and considering the client's target audience, BSM chose to focus on "pour spouts."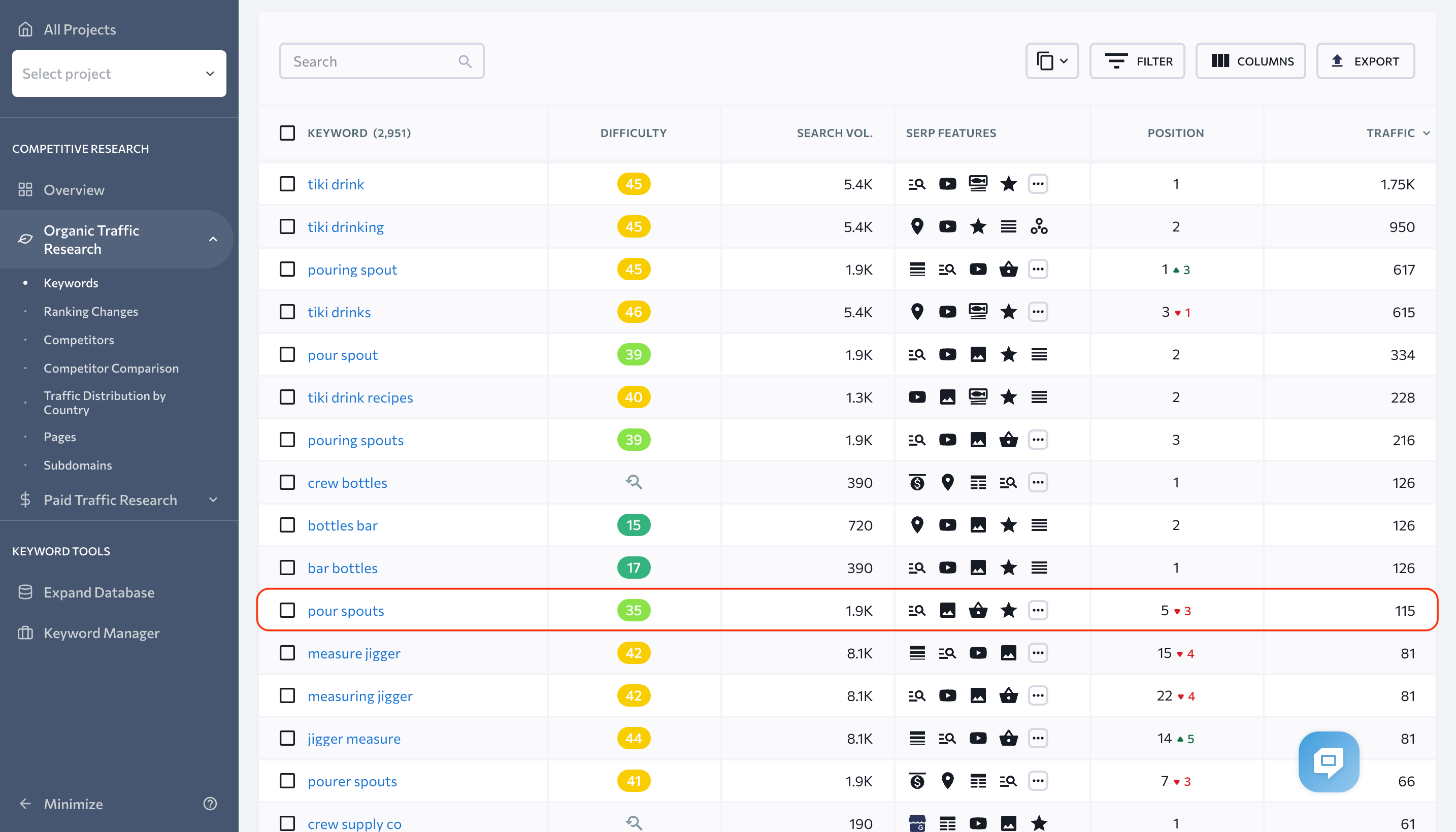 BSM then scanned Crew Supply's website for pages already ranking for "pour spouts" on page 2 or 3 of the SERPs. When they found this blog post, they knew they had a winning SEO strategy. 
While the post was ranking decently, it didn't provide much value, so BSM needed to improve it. They began creating a wireframe that practically re-engineered the entire page, making sure to incorporate all kinds of helpful information for readers. They also optimized both on- and off-page elements for Google. 
2. Evaluate comparable pages on competing sites. 
The next step was running an on-page SEO analysis to see how well-optimized the selected blog post was for the target keyword. Then BSM compared Crew Supply's post with similar posts made by their competitors. Analyzing this page helped reveal errors that were preventing this page from ranking higher on the SERP. More importantly, it allowed them to identify main competitors and get actionable insights on how to improve Crew Supply's page to outrank the competition.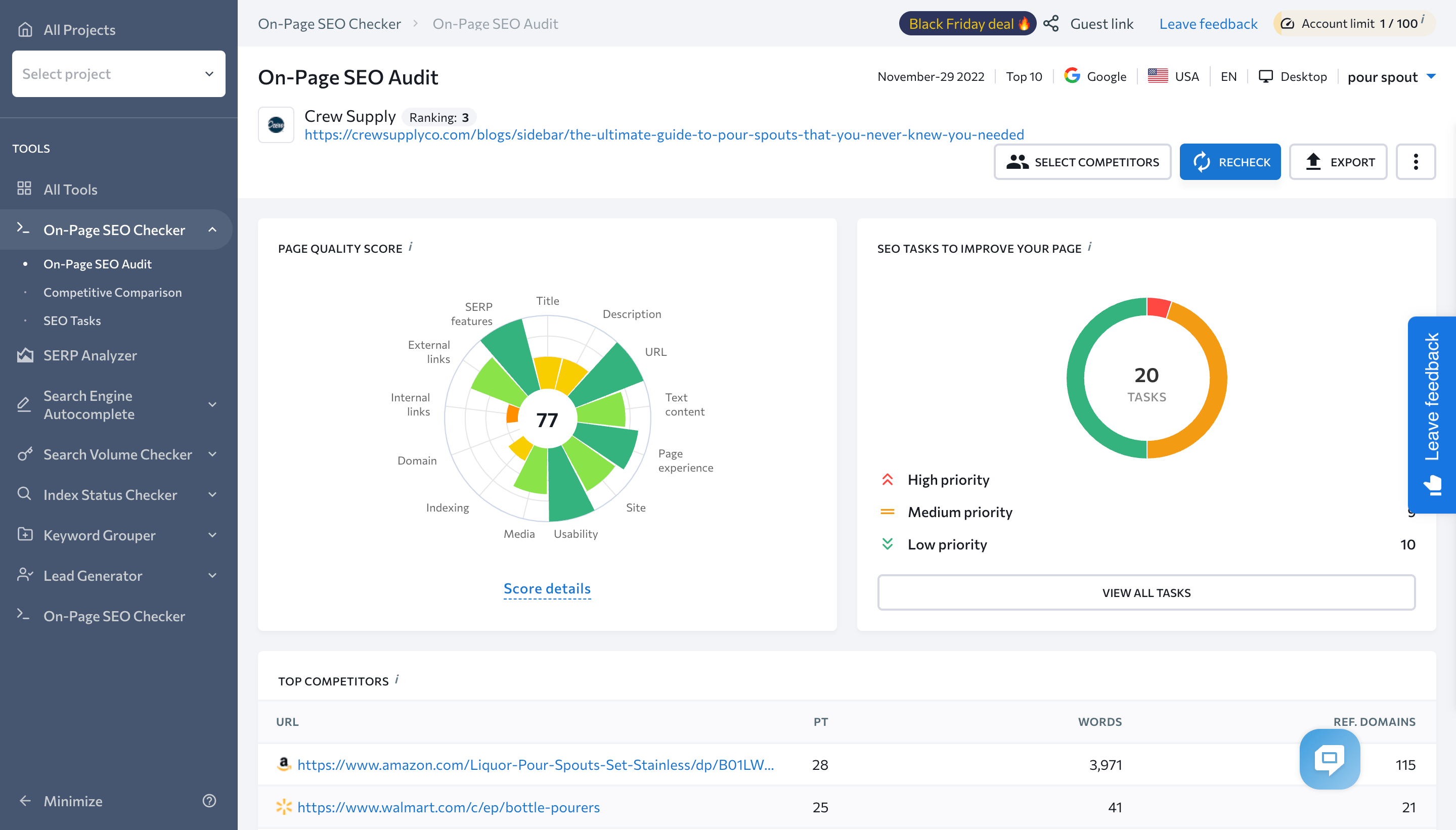 BSM continued on with discerning what Crew Supply's competitors were doing right, so they could ensure their client's site did it even better. With the help of SE Ranking's Competitor Analysis Tool, BSM audited the top five pages ranking for "pour spouts."
BSM also evaluated Crew Supply's backlink profiles using the Backlink Checker. Thanks to these tools, they were able to identify the elements needed on Crew Supply's new blog so Google would consider it comparable to high-ranking competitors. 
3. Create high-quality content. 
Taking all they learned, BSM drafted a detailed wireframe outlining the layout of the new page. This wireframe included internal linking, infographics, product images, optimized descriptions, FAQs, comparable products, calls to action, and reviews. Put another way, it was designed to be the best piece of content on the web about pour spouts, so Google would have to take notice. 
4. Deploy a PR strategy. 
Once the blog was updated, BSM launched a comprehensive digital PR strategy. This included publishing a press release and promoting the page on social media. 
Results
The updated blog post started climbing the rankings almost immediately, and Crew Supply saw a steady increase in traffic. What's more, the page reached the first slot on the SERP for "pour spouts" within a matter of months, deeming this hyper-focused strategy a huge success! 
Takeaways
To help Crew Supply beat out Amazon, Target, and other major retailers, BSM relied on the following tools offered by SE Ranking:
The Competitor Analysis Tool
The Backlink Checker
The On-Page SEO Checker
The On-Page SEO Checker was invaluable for BSM when it came to confirming that their Micro-SEO Strategy℠ was working. In fact, it's still arguably BSM's most important tool because it helps them identify any tactical issues that need addressing to keep the strategy's momentum going. 
Once the redesigned page goes live for about a month, BSM will run the On-Page SEO Checker, which provides incredibly specific details about the page's performance. The results generally yield additional opportunities that BSM can take advantage of to help the page jump from position three or four to the very first spot. The SEO Checker makes this possible by comparing the page to the top 10 to 20 competitors and identifying any shortfalls. It's an amazing tool, and in the right hands, using it can mean the difference between falling somewhere on page one to landing that coveted first position. 
If you want to see Chris in action and learn how to harness the power of these tools to optimize your site, check out this free online training course hosted by BSM. And if you're ready to dive into optimizing your own site, try our 14-day free trial to learn more about SE Ranking's broad set of features.
[ad_2]

Source_link